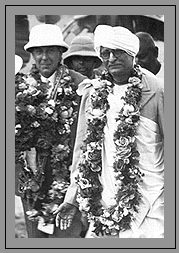 Excerpt from Srila Bhaktisiddhanta Saraswati Thakura's Interview with Professor Johans, head of the Department of Philosophy, St. Xaviers College – Published in the Harmonist
Question (Johans): Please tell me in brief the doctrine of Shri Chaitanya Mahaprabhu.
Answer: There is an old Shloka which says "Bhagavan Krishna's (Son of the Chieftain Nanda of Braja) own place Vrindavana is the object of worship according to the example of the cowherd-wives of Braja which is glorified in the Srimad Bhagavatam, the stainless Puranam, and Love of God is the highest thing for attainment." This is the doctrine of Shri Chaitanya Mahaprabhu, for which we have the greatest regard and not for anything else.
The fullest development of the idea about Godship is in Shri Krishna. He reveals Himself to His devotees of different competences in three Forms. All these three are perfect conceptions, not like the partial one of Paramatma and the incomplete one of Brahman. These three perfect conceptions are full, fuller and fullest. These three are revealed in Dwaraka, Mathura and Vrindavana. At Dwaraka Krishna's manifestation is full, at Mathura it is fuller and in Braja (including Vrindavana) it is the fullest.
We are living in the Bhuloka, one out of the fourteen worlds comprising the seven lower worlds and seven higher ones. Of the latter, this world (Bhuloka) is the first. The Bhu (earth) Bhuvah (between heaven and earth) and Svah (heaven) are the regions of enjoyment for householders performing virtuous deeds with desire; the remaining higher regions, viz., Mahah, Janah, Tapah and Satya are attainable by non-householders. Of these four, the first is meant for those who live and study in the preceptor's house and intend to become house-holders after paying the preceptor a ceremonial present; the second is for the celibates who live with the preceptor for good and ever observe the rules of religious austerities; the third is for the hermits, who after retirement from worldly life live in the forest or in seclusion for meditation; and the fourth for the sanyasis (roaming mendicants). But the devotees of God, who have not the inordinate desire for worldly enjoyments or for merger in Brahman, attain to Shri Vaikuntha which is inaccessible to others. Even beyond that Vaikuntha, there is Dwaraka; higher than that is Mathura and above that too is Goloka-Vrindavana. These regions are manifested by the potency of existences lying in God's Esoteric Personality. The places that are there in the transcendental Region are revealed in the mundane region. What is non-existent in that region cannot be found in this one. The manifestation of the non-apparent sports of Vrindavana is Goloka. Just as the lotus remains in a lake without connection with water, so does Goloka stay in the world without any touch of the earth. Those whose mind is not prone to offer service (to God) cannot feel the transcendentality of the region descended on the mundane plane. Ayodhya, Dwaraka, Shri-Purushottam Kshetra of Shri Jagannath etc., are different provinces of Shri Vaikuntha. The bliss available in Ayodhya is better than that in Vaikuntha; the bliss in Dwaraka is superior to that in Ayodhya; and the bliss of the denizens of Goloka is the climax of all bliss. The difference in the degree of a particular Rasa or sentimental mellowness is the cause of the difference in the degree of the bliss. Even the afflictions and distresses that may be there in Goloka dance on the crest of all forms of blisses and happinesses; these are rather nourishers of the highest form of bliss. Shri Chaitanya Deva has demonstrated the superiority of researching the services of the Lord of Vrindavana or of Gokula. Shri Krishna is God Himself from Whom have emanated all the Incarnations of Vishnu. That Krishna manifests Himself as the Lord of Dwaraka, or of Gokula. Shri Chaitanya Deva has said about Lord Krishna of Gokula: "In Krishna are present all the five principal Rasas (forms of sentimental mellowness). He is Himself the Ocean of Rasas."