This week was the first of many to come this term at the Bhaktivedanta Swami Gurukula here at New Govardhana.
Here's a wonderful class of kids: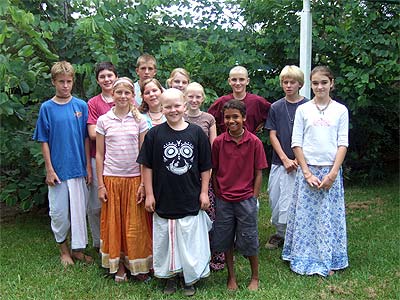 We're going to have a lot of fun this year. Here's whats on the menu:
They are going to plan, design and cultivate their own organic veggie garden for the pleasure of their Lordships Sri Sri Radha-Govardandhari.
We're going to visit Gokula Prabhu who is building his own mudbrick house.
We are going to build a woodfired pizza oven mounted on the back of a trailer for easy transportation.
We are going to learn how to do slip moulding from a devotee here named Bhakta PJ.
Hopefully we can learn a bit about the bullocks from Gopinatha Acarya Prabhu.
Some students will help Shyam Prabhu to build the new playground on the campus.
All of this alongside various individual projects
So we got off to a good start this year with a lot of enthusiasm and youthful energy that can hopefully be directed into something constructive.